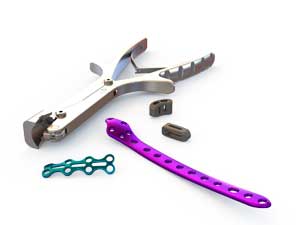 These Orthopedic Medical devices are extremely successful in restoring the mobility, reducing pain and also improving the quality of life for millions of individuals every year. These are mainly used to replace a missing joint or to support a damaged bone. In 2002 the sale of orthopaedic devices are nearly $14 billion. In this nearly $12 billion are kept on Joint replacement. Some of the lists of orthopedic devices which are used frequently are
Cervical Plates

Lumbar Plates

Facet Screws

Pedicel Screw Systems

Bone Screws

Hip Stems

System Implants

Wrist Plates etc.
Orthopedic Medical devices also faced so many challenges like infection risk, manufacturing flaws etc. but the overall growth was very systematic. So many companies like Johnson and Johnson, Stryker, Zimmer, Biomet etc. are offering a wide range of Orthopedic Devices.
Computer Navigated Devices