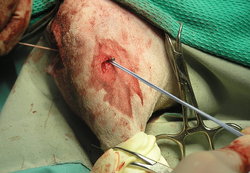 A number of new technologies and new surgical techniques are used in the present treatment of orthopedics. In 2007 alone about 600,000 knee replacement operations are performed in USA. This number tends to increase every year by 1.5 million by 2020. In this knee replacement as the current technique used is appreciable, but the use of Computer based technology will further improve surgeries that have been optimised using manual tools. This newer techniques will improve the patient experience by increasing the durability of joint implants and fastening the recovery time from less invasive surgeries. The different types of computer assisted surgeries that are conducted are as follows.

Nerve ablation is a new technique used as an option to low back pain. The system is proven to be safe and effective in clinical trials. It is much invasive than the normal procedures that we are using now a days.

Another recent trend in the Orthopedic Surgery is the Touch Surgery. It allows surgeon to practice surgery in a virtual operation room on a virtual patient, with the aim of improving access to high quality surgical care globally. Etc.
Joint replacement surgery